Set the Wayback Machine
It was a year ago, October 2010, when I first decided I wanted to go to the PASS Summit. I asked for my company to cover the costs, and I was denied. I could hardly blame them – requesting $3000 on four weeks' notice was asking a lot. Plus, I was hitting a rough patch with my job and not doing my best. So, from my desk at work, I watched the stream as Tina Turner kicked off day one of the Summit. I was bummed out.
But I was also motivated.
I made definite plans to alter the course of my career. I decided to take my career seriously by:
Becoming a better student of SQL Server by learning more and getting certified.
Getting into blogging and presenting.
Going to PASS Summit 2011, with or without company support.
Over the next year, I made significant progress with the first two goals – I earned one MCTS and narrowly missed a second, blogged a little, and delivered five presentations.
When the call for speakers opened up for the 2011 Summit, a lot of prominent figures in the SQL community were encouraging people who had never submitted before to do so. I submitted four regular session abstracts for the Summit.
All four were rejected.
I took it the rejection hard because I didn't get any reason aside from there were already enough Reporting Services sessions chosen. I got over it by the time another call for speakers came, this time for lightning talks (five-minute sessions). I submitted two abstracts. One was accepted ("The Two Most Powerful Properties for Dashboards"), and I was elated. I was going from a SQL nobody to a PASS Summit speaker in just one year.
SQL Saturday and the Portland 10k
Friday, October 7
I opted for the bonus size Summit experience this year: SQL Saturday in Portland, a 10k race, two pre-conferences, and the three-day conference.
At the Portland SQL Saturday speaker dinner, I was reunited with old friends Bill Fellows (t), Jes Borland (t), Buck Woody (t), Allen White (t), Tim Ford (t), Dev Nambi (t), Yanni (t) and John Robel, and Erin Stellato (t), among others. I got to meet Arnie Rowland (t) (great guy) for the first time and received a thoughtful speaker's gift — a Logitech presentation remote.
I slept terribly that night.
Saturday, October 8
SQL Saturday. My session, "Developers are from Mars, Report Servers are from Venus" was scheduled in the best time slot: 10:15-11:30 (late enough that more people have trickled in, early enough that brains aren't full yet and the audience can still focus). I had the pleasure of not only presenting to a mostly full room, but also having several SQL buddies in the audience. Kendra Little (t), Bill, Allen, and Jes got to see me present for the first time. The session went very well, although Bill had to prompt me kindly (and with the subtlety of a derailing train) to give away swag.
As the day went on, it became apparent that the air conditioning in the building was programmed to not run on the weekend. However, by the time I sat in on Jes' Reporting Services session, the auditorium had become a sauna. In the last time slot of the day, I think I saw one attendee at Bill's session finally ignite. Another may or may not have melted into the floor. I don't really remember; it was so hot I may have hallucinated. (Note: Bill knows his stuff when it comes to SSIS. Some of what he presented, I heard repeated in other sessions at the Summit.)
After a brief stay at the after-party, I headed back to the hotel to get a good night's sleep for the big day ahead. I didn't sleep well.
Sunday, October 9
On a cold, slightly drizzly morning, I jogged over to catch the charter bus to the 10k start. Our registration e-mail said there'd be a bag pickup. At the starting line, we were told there was not a bag pickup. Enough icy stares from the athletes prompted the race director to hastily create a bag pickup.
For this race, I had trained consistently, at altitude, for about eight weeks. I trained at a 7:00/mile pace but considered that to be wishful thinking. A 7:30/mile pace seemed more realistic.
I focused on staying close to a guy who resembled a hardcore Kenyan speedster. After the first 300 meters, I passed him and never saw him again (so much for appearances). I ran the first mile in 7:00. Fast, I thought, but I knew it was probably adrenaline-fueled and I should expect to slow down. The second mile was mostly downhill and when Runmeter told me I'd done it in 6:27, I was not really surprised. By the end of five miles, I was feeling the hurt. It helped that the final 1.2 miles tracked past a cheering crowd. I kicked with about 200 meters to go and finished in 43:34, a 7:02 split.
I ran and skied cross-country in high school. I used an old trick from my racing days to my advantage on Sunday: tangents. By anticipating curves in the course and running the tangent lines, you can shave off waste distance from the course. Based on Runmeter's stats, I sliced sixty meters off the course by running in long, straight lines. I don't care if I'm not young anymore as long as I'm still crafty.
With a handful of other SQL runners, I took the Amtrak line to Seattle (I highly recommend it — way less fuss and more comfort than air travel. Bottles over 3.5 ounces are not hunted like fugitives by TSA agents and legroom is not measured for reasonableness using pygmies as a standard)
Bill and I checked into the Sheraton, and promptly went to bed.
(Went to sleep in our respective beds, that is.)
Probably due to excitement about the week ahead, I slept badly.
PASS Summit Pre-Conferences
Monday, October 10
Upon waking, my first thought Monday morning was, "Holy S#!t, I'm actually at the Summit!"
I went to the pre-con, "A Day of SSIS in the Enterprise" presented by Andy Leonard (t), Matt Masson (t), and Tim Mitchell (t). Of all the presentations I have seen in the last year, this was the gold medalist for both execution and content. I got more ready-to-implement ideas and advice from this session than from all the others I attended at the summit combined. It was that good. (Once more for the Program Committee: it was that good.)
I was especially impressed by how the three presenters handled questions. One would give an answer, then another would add a thought to it, then the third presenter would wrap up the answer with their own insight. When they disagreed with each other on a design choice (e.g, file system vs. SQL Server storage for packages) they stated their respective cases. As a result, the audience was treated to multiple points of view on many issues that SSIS developers confront.
I wouldn't ordinarily comment on lunch — conference food is remarkably unremarkable — except that lunch on this day was incomplete. Somehow, the caterer for Monday's lunch ran out of chicken. That's not a big deal, unless there's no other meat alternative, which there was not. Curry tofu (think stale marshmallows hit with pepper spray from across the room) was the only other meat-like item. Lesson for the day: don't wait until the fifty-fifth minute of a sixty-minute lunch to go get food, or just eat out.
In the evening, I went to the party at Lowell's hosted by Steve Jones (t) and Andy Warren (t). I met a lot of new faces there and caught up with more acquaintances, including several SQL Cruisers. I got there early enough that I scored a free dinner, which was positively delicious. Later, it was off to Bush Garden for karaoke night. I sang "One Week" by Barenaked Ladies — my anchor song — and "Only the Good Die Young", which was awful. On the way back downtown, Jason Strate (t) walked through a foot-deep fountain, to no one's surprise.
I got back to the hotel around 2:30 a.m. and attempted to sleep. Generally speaking, I failed.
Tuesday, October 11
It started to catch up with me that I hadn't slept a lot the last few days. It didn't help that I was signed up for a second pre-con, Stacia Misner's (t) session "MDX, DAX, and DMX: An Introduction to the Languages of BI." I didn't get as much value out of this session for a few reasons:
Exhaustion was beginning to take a toll on me.
The session was heavily weighted toward MDX (about six and a half hour's time) and I was more interested in DAX (one hour's time).
I just don't learn as well if I'm looking at code in SSMS. I do better with demos or slides.
Just the same, I'm eager to see another of Stacia's sessions. This one ended up being a little light on DAX and MDX, that's all.
Welcome Reception
I've heard PASS is trying to make the first-timer's experience a more inclusive and more appreciated one. One thing they did was pretty special in that regard.
Although I didn't participate in the networking or big brother/sister events for first-timers, I went to the conference center for the welcome reception. While standing outside the ballroom chatting with friends, I ended up getting herded into a large conference room adjacent to the ballroom. We all stood around, lined up in front of a doorway, awaiting instructions and knowing something was up. The screen at the front of our room lit up with the image of Rushabh Mehta (t) on stage. He welcomed the crowd, then spoke about how exciting it was to have so many first-timers in attendance this year. With that, doors opened in front of us and we entered the ballroom to a Super Bowl-like introduction: stage lights, fog machines, and a crowd lined up along the red carpet. I loved the entrance and the feeling of being a superstar, if only for about eight or nine seconds. Well done, PASS.
The rest of the night in short:
Red Gate/SQL Server Central casino and award party for Jeff Moden, Exceptional DBA for 2011.
More karaoke at Bush Garden – lots of locals in the bar so a lot more songs in the queue. I murdered ELO's "Mr. Blue Sky". Mark Vaillancourt (t) learned the hard way to never sing "White Christmas" – it repeats. And repeats. And repeats.
I finally got a passable night of sleep.
Wednesday, October 12
Finally, my first SQL Run. Bill and I got down there just as the crowd was leaving. I was pleasantly surprised at the size of the group — close to forty runners. I hope this tradition keeps up, and I hope I'm not so sacked next time around.
I was fortunate to be given a spot at the blogger's table for Friday, and an invite to sit in the reserved section directly in front of them on Wednesday and Thursday. The Wednesday keynote was going along well enough until…Contoso Frozen Yogurt.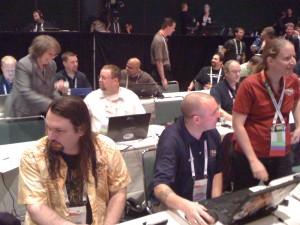 I had held back mocking any of the BI enhancements until they stated that according to their data, "Kids love frozen yogurt." I won't repeat the tweets here, but the blogger section had a lot to add with tweets about Dateline's "To Catch a Predator" and "FREE YOGURT" spray-painted on the side of a van. Lesson for Microsoft: run your demos by someone who can tell you if they're ripe for mockery.
After the keynote, I couldn't fight it any longer — I went back to the hotel and took a nap. If the lesson isn't obvious by now, I'll state it: pace yourself at the Summit.
Jessica Moss's (t) HIPAA session was great, except when my phone rang out loud. (If you own an iPhone 3G or 3GS, the ringer toggle sticks out far enough that a shift in your pocket can switch it back on, which is how I got burned.) It wrapped up in just under an hour, so I headed over to catch the end of Jes Borland's talk. Based on what little I saw of that session, she handled her first PASS Summit presentation with ease. Keep your eye on Jes, people. She's a SQL superstar in the making.
The remainder of the day:
Bradley Ball's (t) excellent lightning talk incorporating the show "24"
SQL Cruise meetup & thank yous to sponsors
Speaker appreciation party
Bush Garden – "One Week", "Amish Paradise"
Thursday, October 13
A better opening presentation this time, followed by an outstanding Matt Masson session on what's new for SSIS in SQL Server 2012. Before Monday, I hadn't heard Matt Masson present. In fact, I hadn't heard of Matt Masson at all. Matt is now on my list of must-see speakers. An illustration why: when I walked into the room, he was killing time before the session demonstrating how he could use SSIS to separate his Facebook friends from his frenemies, who were — as he put it — all plotting against him. He's very funny and very sharp.
Later, during this session, a most incredible opportunity presented itself to me.
I was watching Twitter and posting useful tidbits from the session when, around 11:00, I saw Allen Kinsel (t) trying to fill in a last-minute cancellation for 1:30. I'll let my Tweetdeck stream tell the rest of the story (note: tweets show MST, so subtract one hour for Seattle time).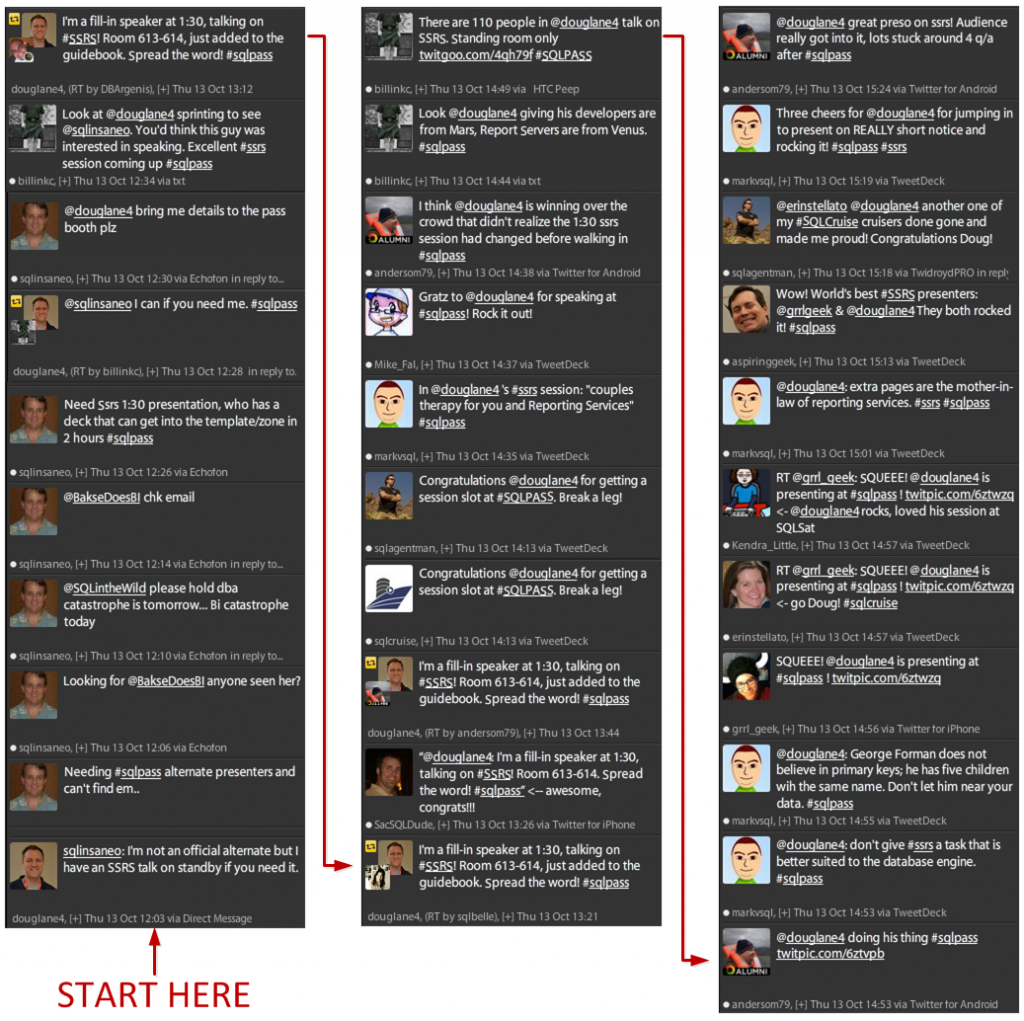 That's right, I jumped in and gave a regular session with less than two hours to prepare it.
In fairness, I should mention a few facts:
The session I gave was one I'd given five times before, including SQL Saturday just five days earlier. I had already put about seventy hours of development and rehearsal time into it.
Like less experienced musicians performing an adagio piece, I rushed.
I got a mere one or two questions during the session, so I finished in only forty minutes. I was slotted for seventy-five minutes. I ended up answering questions for another fifteen minutes afterward.
I spent the two hours' prep time re-styling the deck — all eighty-eight slides — to the PASS Summit template, changing white text to black, and adding zoomed-in screen shots to account for the depth of the room. I also spent that two hours trying to prevent my heart from launching out of my chest cavity.
It was a thrilling, terrifying, and euphoric experience being up on that stage. I had wanted achingly for months to give a full session at the Summit and because I recognized I was at the intersection of opportunity, preparation, and damned good luck, I did it.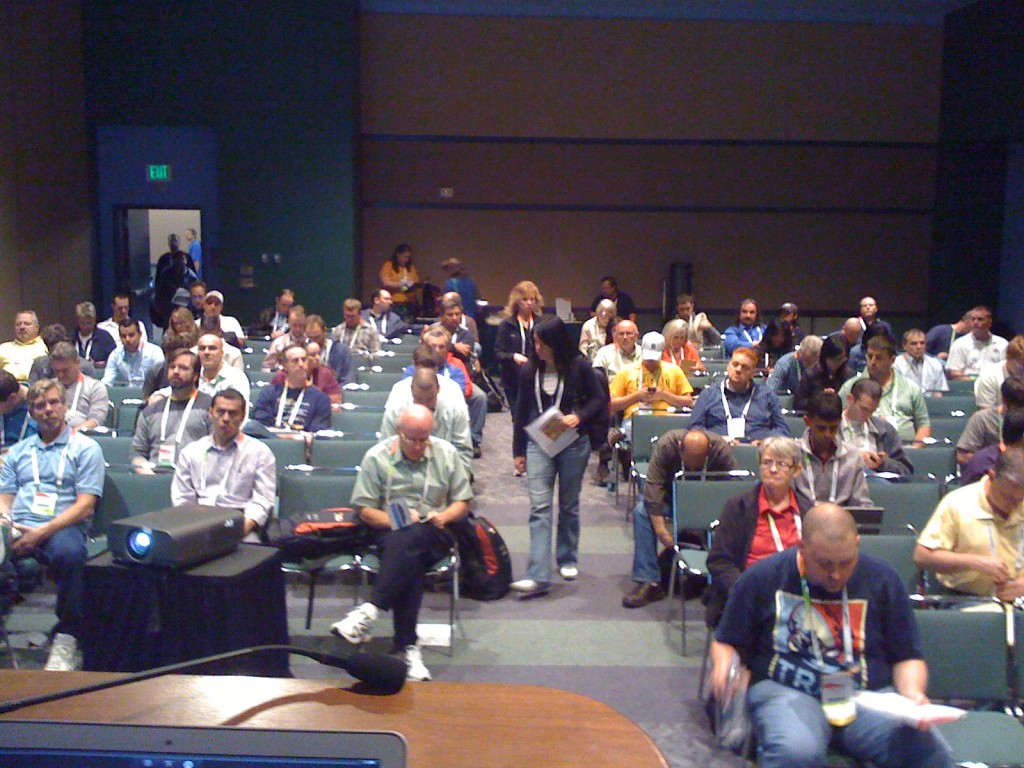 That night, my body began to revolt against its perpetual tiredness. I had dinner at Elliott's with the Denver SQL User Group. I was happy to see we had over thirty people turn out — a healthy gain over last year's ten or so, from what I heard. I stopped by my hotel lobby and had a long and thoroughly enjoyable chat about politics with Mike Walsh (t), who was very civil and open-minded.
As I went to bed, I reflected not only on the speaking experience, but also on how supportive my SQL Server colleagues — my friends, really — were in helping me get that session not only noticed and accepted, but also filled with attendees. Take another look at the Twitter stream above. The longest I have known anyone in that stream is eight months, and yet they all were publicly pulling for me to succeed.
Truly, this is community.
Friday, October 14
Honestly, the rest of my 2011 PASS Summit was a blur. Dr. Dewitt's keynote on the worlds of structured and unstructured data helped me, and I suspect a lot of others, understand what's going on on the other side of the data fence, and how we shouldn't ignore the importance and interconnectedness of our collective backyards.
The lightning talk went well, though again, I rushed. I talked about how framing matters with dashboards, using signed photos of donkeys as examples. (The photos were not signed by the donkeys themselves — that's ridiculous.) Once my lightning talk session was over, I said my goodbyes, rolled my suitcase onto the light rail, and flew back to Denver completely wiped out.
What I Learned
For my presentations, I have a lot of useful feedback to learn from. I intend to put it to good use and improve on my performance as a speaker. I have feedback to share with you as well: some suggestions for the Summit that I learned from this year's event.
Do:
Pace yourself. Get enough sleep early in the week so you aren't dragging come Friday.
Bring business cards with your Twitter handle on them. If you don't have a Twitter account, get one and get active with the SQL community.
Use a real portrait photo of you as your Twitter avatar. You'll be more memorable to others.
Go out for lunch somewhere unique to the host city. Let's be honest, convention food has a low ceiling for taste. In Seattle, there's fresh seafood all around and it's gooooood. Go get some.
Attend as many off-hours activities as you can handle. This is where friendships are forged. Whether it's a morning jog, morning prayer, or (technically speaking) morning karaoke, people want to connect with you through these activities.
Stay in a hotel a reasonable walk from the convention center. Being able to get back to your room quickly and ditch your swag/change clothes/take a nap frees up more time for the fun stuff. Plus, a lot of people hang out in the lobby or the bar. You want that to be your lobby, your bar.
Bring a power strip with a long cord. Six feet is okay, twelve feet is fabulous. Outlets can be a long way from where you end up sitting. One of the recommendations for next year is to have power strips for pre-con attendees. That's great, but how will you stay juiced during the actual conference? You'll need a power strip with a long reach, so come prepared.
If you want to present a regular session but aren't an official alternate, be an unofficial alternate. I was amazed to hear how quickly PASS burned through their alternates. As a lightning talk speaker, I had access to the PowerPoint template. I could have styled my presentation ahead of time and used the prep time that day to rehearse. Next year, if I'm a speaker I'll have a second deck ready and styled. You should too. Even without the official template, you can still make sure your deck and demos are ready for a large room and audience with ZoomIt or zoomed-in screenshots.
Buy the DVDs. You can't be everywhere and see every session. Or can you? You can, and for the bargain price of $125 + shipping and handling. ORDER NOW! (Update: the $125 price was valid until the end of the Summit. The current price for attendees is $195 — a great deal just the same.)
Don't:
Bring dress clothes, unless you have a specific reason. I wasted baggage mass on a nice shirt, pants, and dress shoes. You'll be on your feet so much, you'll want good walking or running shoes to keep your feet happy. Also, the Summit is CBC on the dress compass: casual-business-casual, close to due casual.
Spend any time in your hotel room unless it's transition time or you need a nap/shower. Unless there's a networking event going on in your room, all the action is going on somewhere else. Use your hotel room for sleep and refreshing.
Forget to turn your phone off before a session begins. Don't rely on a mute switch — turn the ringer volume down to zero instead. That way if the switch flips accidentally, the ring still won't be audible. If you leave your phone on, or worse yet — answer it, the audience will judge you. Oh, how they will judge you.
Feel like you have to attend a session in every time slot. Your brain will start overflowing mid-day Thursday if you've been pouring session after session into it. Skip one slot here or there and go talk with other people, see the vendor exhibits, or reflect on what you've learned so far. Buy the DVD's if you're afraid of missing out on something. (Remember, I told you to ORDER NOW!)
In closing, I'm grateful, truly grateful for the adventure I had at this year's PASS Summit and to the people who helped it unfold as it did. I got to reconnect with old friends, make a lot of new ones, and scratch the year-long itch to be at the world's largest and greatest SQL Server conference. I got the opportunity to present twice (which I have to believe is an extremely unusual occurrence for a first-timer), and enjoyed every second of it. I can't wait for the next adventure to begin.